Gabby's Restaurant: Country Style Restaurant in Jasper, AL
Gabby's Restaurant, located in Jasper, AL, is a family-owned and locally-operated destination for quality country-style food and great conversation. Located near the scenic Bankhead National Forest, we specialize in creating delicious meals served with Southern flair and hospitality. Dine with us today and we guarantee you'll leave satisfied!
Jasper's Favorite Place for Home-Style Food
Since 1992, Gabby's Restaurant has been a top-rated restaurant in Jasper, AL. We offer a range of delicious country-style foods at affordable prices. We specialize in creating delectable breakfast foods and offer a comfortable, home-like atmosphere where you can kick back, relax and enjoy the food we serve.
Nearly everything in our kitchen is made from scratch, the old-fashioned way. We're proud of the quality and attention to detail that sets our food apart. We use the finest, freshest ingredients possible to make a range of classic comfort foods in-house. We're sure you'll taste the difference!
Our menu includes catfish dinners, ribeye steaks, barbeque and so much more. We slice all of our meats, sourced from a local butcher, right here in our own kitchen. We also offer a selection of homemade pies and puddings.
If you're hungry early, don't worry—our breakfast service begins at 5:00am! You can stop by Gabby's Restaurant for a hearty helping of eggs and bacon, a stack of pancakes, or any of your favorites before beginning your busy day.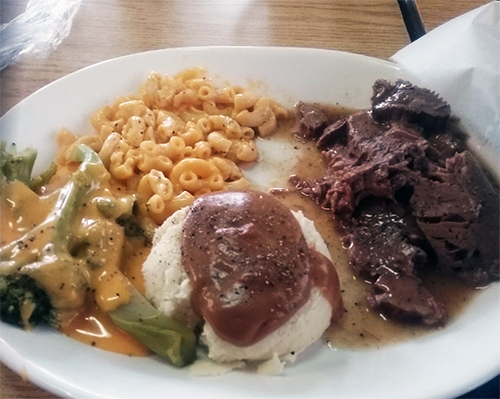 As a family-operated business, we pride ourselves in creating an atmosphere for patrons of all ages to enjoy Gabby's Restaurant. Our friendly wait staff will make you always feel welcome! Here are just a few reasons for you and the family to visit our top restaurant in Jasper, AL:

Our menus include both breakfast and lunch options, so you can get great food for the two most important meals of the day.

We offer home-style cooking at affordable prices, with menu items that span a number of classic favorites, including barbeque and catfish dinners.

Our foods are made in-house, fresh-to-order, using classic recipes. We promise a delicious meal every time.

We pride ourselves on our friendly atmosphere and dependable service. Patrons of all ages are welcome!

Gabby's Restaurant begins serving breakfast at 5:00am. Make us your first destination for the day!
Visit Gabby's Restaurant
If you're looking for a delicious meal in Jasper, AL, look no further than our restaurant!
Call us today to learn more or stop in to check out a menu and find your next tasty meal.
Serving home style cooking within comfortable driving distance of:
Jasper, AL
Manchester, AL
Carbon Hill, AL
West Corona, AL
Goodsprings, AL
Curry, AL
Cordova, AL
Parrish, AL
Dora, AL
America, AL
Dovertown, AL
Oakman, AL
Townley, AL
Union Chapel, AL
Sipsey, AL
Aldridge, AL